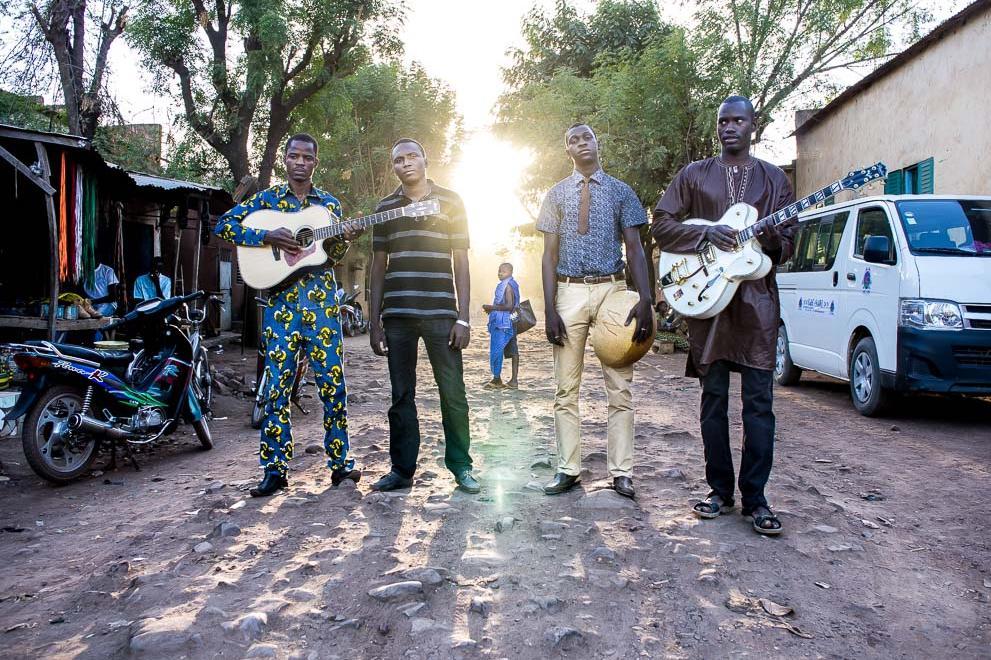 Attention Lovers of Film, Documentaries, and especially Music!
Don't miss the exclusive Madison screening of 'They Will Have To Kill Us First: Malian Music in Exile" as it follows the journey of Malian musicians, Songhoy Blues, through their fight to overcome tyranny in their home country of Mali.
✔ Where: High Noon Saloon
✔ Film – When: Sunday, April 10th at 5pm – (FILM + Discussion + Food)
✔ Concert – When: Sunday, April 10th at 8pm (Music)
✔ What: Screening + Discussion + Buraka Restaurant + Music
✔ How Much: $10 film, $15 concert, $20 BOTH!
More Info & Tickets http:/high-noon.com
"This resulting debut is a masterpiece of desert blues, blending American guitar licks with Malian grooves" – NME
"'Soubour' echoes a desert Led Zeppelin, while the revolving, perky 'Nick' suggests what a West African La's might sound like- but it's presented in revitalized new settings, with grit, urgency and delicacy in abundance" – Q
"Talking Heads funky… growlingly bluesy… contemplative and hypnotic… A triumph" –The Guardian
"'Songhoy Blues' desert R&B is incredibly rousing and intense…conjuring a freedom and thrilling abandonment in its hypnotic shuffle boogie and punky blues rocks riffs" – Mojo
Once among the most prominent of Mali's many ethnic groups, the Songhoy now live largely on the margins of the West African nation. Nonetheless, the Songhoy people retain a fierce pride in their history, beliefs, and traditional music. Hailing from the heart of Gao, on the banks of the Niger River, Oumar Touré and Aliou Touré grew up obsessed with hip hop, R&B, and classic rock like The Beatles and Jimi Hendrix. They found a kindred spirit and musical brother in guitarist Garba Touré (son of Oumar Touré, long term percussionist in Ali Farka Touré's band). When growing unrest in the north of Mali forced the young men and their families to take refuge in the southern town of Bamako, they decided to turn crisis into opportunity by forming a band. They enlisted drummer Nathanial "Nat" Dembele and baptized their band Songhoy Blues in celebration of their displaced people and culture.
The ambitious young band were soon a fixture on the Bamako live music scene. Prompted by local studio owner, in September 2013 Songhoy Blues reached out to producer/manager Marc-Antoine Moreau (Amadou & Mariam, K'Naan), in town to scout new talent for the extraordinary Africa Express project. An audition followed and Songhoy Blues were invited to record a track with Nick Zinner, acclaimed producer and guitarist in NYC's one and only Yeah Yeah Yeahs. The song, entitled "Soubour," proved a highlight of 2013's critically applauded "AFRICA EXPRESS PRESENTS…MAISON DES JEUNES."
In addition to their increasingly busy live schedule, Songhoy Blues also appear in an eagerly anticipated new film documenting Malian musicians' fight with the extremist forces that have seen music banned in much of the country. They Will Have To Kill Us First: Malian Music In Exile' had its world premiere at Austin's South By Southwest Film Festival 2015.